Facebook advertising is one of the best ways to develop our business. There are nearly 1.13 billion daily active users on Facebook. So, whether your target audience is college students and CEOs, they are probably using it and some of them using it daily.
Facebook has offered nearly 25 different types of ads. In that we can discuss some important types of ads are as follows,
Page post Ads:
Post any picture, video or status update on your page will have a great reach. You can reach maximum customers through like, commenting, etc. If anyone engage with your post, it automatically reaches their friends circle this is how it works on Facebook.
Promoted Ads:
Promoting a post on your page is one of the greatest ways to reach the users with an important piece of content or promotion. The promoted posts are promoted in the news feed according to the number of users an advertiser wants to reach. They are shown to users that already like the pages as well as their friends. They can also be purchased like standard ads, to appear in the right hand column.
Page like Ads:
"Likes" are more important to our page, it is one of the proven way to get more users to our page. If anyone likes your page as well as his/her friends like it too. It helps users to make one click and follow our business easily. It shows our business offers and information who has liked the page that may be connected to other people too.
Video Ads:
It plays a vital role among users because it's engage users visually. But these types of ads cost more than others. Facebook video ads might work for your business.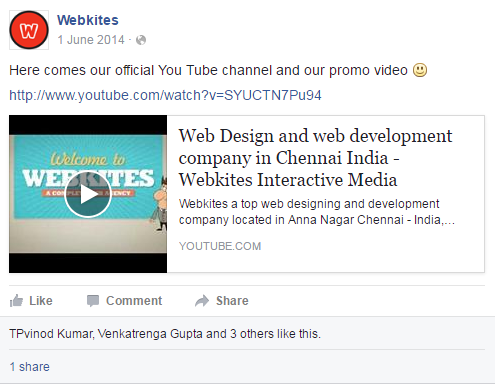 Photo Ads:
Many of the business owners uses photos to showcase their products with a link and text. A picture can tell a thousand words than a two line text about our business. It works better to get a more customers to your business.
Multi-Product Carousel Ads:
By this ad, you can add 2 or 3 products with your link to your business if you wants to sell a multiple products. It is the best option because Consumers can have more than one reason to get into your business.
Offer Ads:
If you have any offers, discount, gifts or coupon for your business, you can use this type of ad to promote your business because everyone likes offers for what they purchased.
Event Ads:
If you have any conferences, seminars or big event coming up? For these ads there will be more visitors to your business like, if any one user likes, he/she might be invite her/his friend for an event too.
External Link Ads:
With this type of ad you can bring more visitors to your website by adding text, link or blog post. Make sure to reply any of the comments on the post to engage with potential customers.
Please mail to support@webkites.in or contact us through www.webkites.in to know more about Facebook advertising.