Google has announced some changes in its AdSense's policy. It can more transparency for publishers and site owners. Previously, Google will terminate the user AdSense account immediately if anything violates the Google's AdSense policy. This will be a major loss for the publishers who depends on AdSense income only.
Now according to the Google new AdSense policy, Google will terminate ads only from the specific page that violates the Google AdSense rules. This new change will be a great support for the publishers and site owners who mostly depends on the AdSense income only. This new policy will definitely reduce the risk for the AdSense Publisher.
Taking action at the level:
The Google new technology is enabled across all AdSense policies as of today. Instead of removing ads from publisher's entire website, it turned off ads at the page level. The Google will take the action faster with site penalties. It will wait until a certain number of pages are in violation before taking action. However, according to page-level violations, it will act immediately.
New Policy Centre in AdSense:
According to new AdSense Policy, when a page is found in violation, the Google AdSense Policy team will send a mail to the Publishers about the ads by informing something like "We have found that your ads don't meet our AdSense policies."
The first thing, Google says will serve as a one-stop shop for everything publishers can know easily about the policy actions. In the new policy center section, the publishers will be able to view details on any page-level or website-level. Viewing on a page-level will show full details about what policy is violated and the current status. So, that Publishers can know about the problems and able to know how to resolve and send a request to review the page. For AdSense team, to review the page it will take hardly one week to complete. Publishers also can able to remove the ad code from that particular page.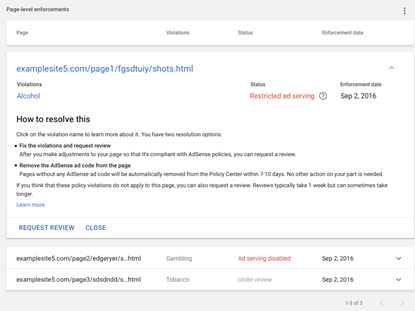 The Second Change is Google announced that, its move from site-level to page-level policy actions. Until now, the default action taken by the Google when a violation of against AdSense policies was found. Those websites will completely disable ads site-wide. This is not much popular with Publishers or owners that Google making ads disable from those websites who meets against AdSense policies through page-level policy.
Please mail to support@webkites.in or contact us through www.webkites.in to know more about the latest updates of Google.