We all know SEO helps to get more leads, to our business and to achieve this there are a lot of free SEO tools to monitor the website performance lets learn those SEO tools.
Top five elements  of SEO tools are: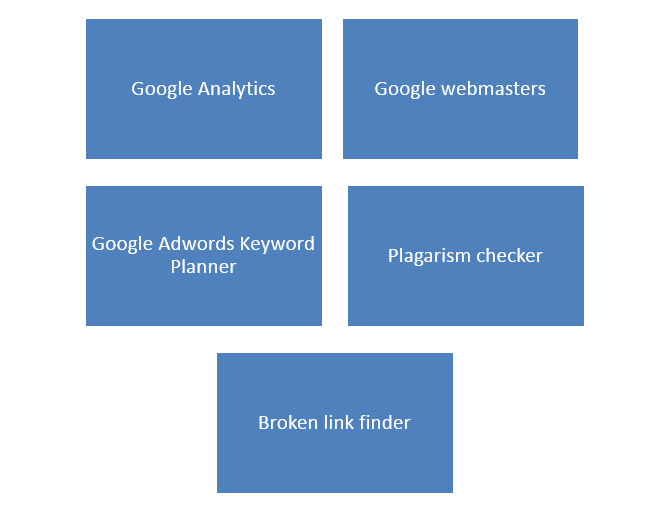 Top 5 SEO TOOLS
GOOGLE ANALYTICS:
Google  analytics are  the services offered by the Google. Google analytics basic version is free of cost and premium version is for a fee. This service is used by the website administrator to find out  the number of new visitors and returning visitor to our website.It also provides additional information such as from which part of the country the user is viewing the website and from which device it has been viewed. These are the information provided by the Google analytics. Visit this link http://www.google.co.in/analytics/and register your site to access your data
GOOGLE WEBMASTERS:
Google offers the Google webmaster tool. With the help of this service we can detect the issues present in our site and whether any malware is present on the site or not. The Site should be monitored regularly in order to avoid the spam and malware issues. Google Webmaster consist of various tools such as site messages, data highlighter, site links, search traffic, crawl status etc..Visit this link http://www.google.co.in/intl/en/webmasters/and register your site to access your data
GOOGLE ADWORDS  KEYWORD PLANNER:
With the help of Google Adwords keyword  planners  we can find out the most competitive and  high ranking keywords for our business. We can also search for new keywords or ad group ideas here. It shows the traffic estimates for the list of keywords. This tool helps us to build a search network campaign. We can also find out the statistics that how many times the keyword has been searched by the users.Visit this link https://adwords.google.com/KeywordPlannerand register your site to access your data
PLAGARISM CHECKER:
Plagiarism checker is used to find out the duplicate content.This tool is available in free and also paid version. With the help of plagiarism checker we can check the content uniqueness.Before  we update our content in the world wide web we can check our content uniqueness with this tool. If we find any content which is duplicate then we can correct those contents. Below is the link to plagiarism checker tool
http://smallseotools.com/plagiarism-checker/
BROKEN LINK FINDER:
The Broken link finder is used to find out the links that are broken in our website ie the link which are not found in the web page. If google recoganies if there is a broken link in the website it will harm your rankings as well as the user doesn't like to come to your site. A webmaster should make sure that there are no brocken links in the site.  Visit this linkhttp://smallseotools.com/websites-broken-link-checker to check whether your site has broken links or not so that you satisfy the user as well as Google.
Hence these are the top 5 SEO tools which helps to monitor your website performance and also boost your rankings.
If you are not clear about this or do you have any issues in working on these tools please mail us to support@webkites.in or visit www.webkites.in so that we will help you to assist you.